High-vacuum sputtering systems
The main technologies employed by our systems are thermal evaporation, plasma treatment and sputtering.
Sputtering (also known as cathodic pulverization) consists in the physical deposition of a very thin film on the surface of an object to provide it with aesthetic qualities, corrosion resistance, anti-scratch properties and durability.  Sputtering systems designed, manufactured and installed by Arzuffi produce PVD coatings using high-vacuum technology, i.e. a metallization technique where the surface of the target metal is bombarded with gas ions that evaporate and deposit a thin film on the surface of the treated object.
Our offer includes the following lines: Fast-Met, Smart-Met, Line-Met and Twist-Met. Each solution is exclusive, with unique sizes and process characteristics and a common purpose: the metallization of material surfaces obtained through sputtering technology.
We rely exclusively on qualified suppliers of strategic sputtering components, such as generators, cathodes and turbo molecular pumps. That is why we deliver utmost quality for each component installed.
For more information on our machines, available in different configurations, browse the individual sections or contact us directly. We operate at a global level.
Batch Manual Solution & Semi-Automatic
Fast-Met
If you are looking for a customizable system for high-vacuum sputter metallization, our Fast-Met line fits the bill. Available in 4 different configurations to meet different needs depending on the fields of application, Fast-Met  coats any type of metal surface, with the possibility of obtaining coloured and / or semi-transparent finishes.
Automatic Solution
Smart-Met
Smart-Met is an automatic sputter metallization system specifically designed and built for line production processes. It performs fast coating cycles that can be completed in less than 50 seconds, offering the following main advantages: total automation and the possibility of using the same tray in a complete production line.
Automatic Solution
Line-Met
Our Line-Met range, with 4 different configurations, is suitable for installation within an existing production line. The main advantages offered by these high-vacuum systems include: less scrap pieces produced, enhanced quality and a considerable decrease in costs per single operator.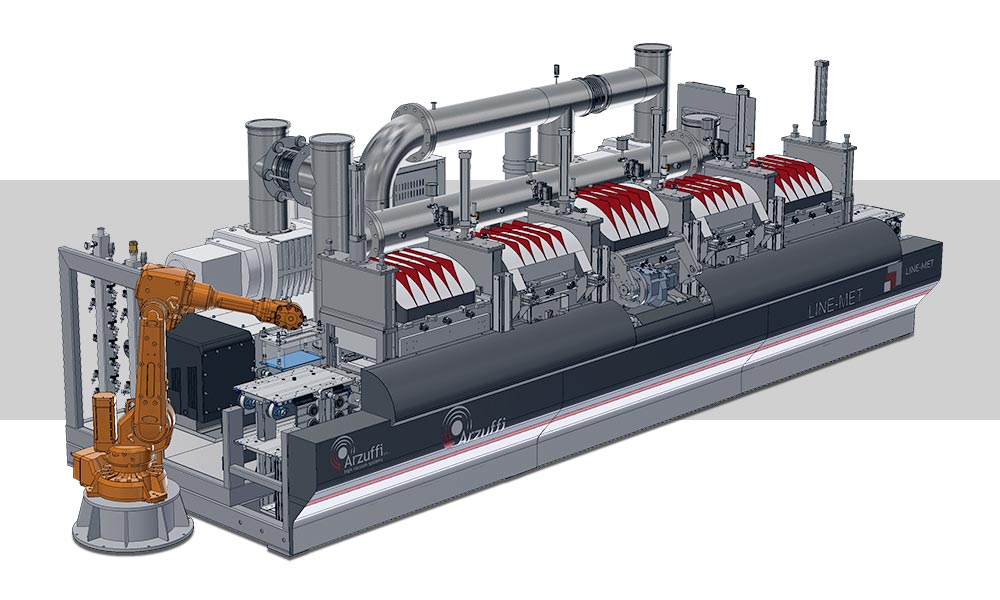 Automatic Solution
Twist-Met
To obtain the benefits of a sputter metallization system while cutting production costs, our Twist-Met system, available in two configurations, is the ideal choice. Twist-Met is a fully automated system with a coating cycle that does not exceed 40 seconds. In addition, it ensures constant profitability over a 24-hour period.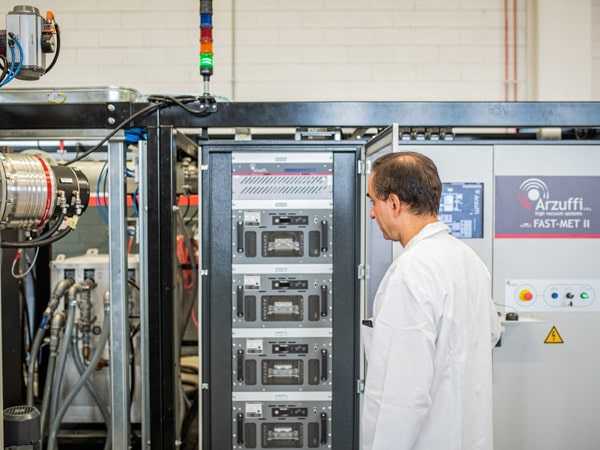 Generators
Generator units are used for supplying the power needed for the plasma activation process. We use DC, MF and RF generators depending on the required process.
Cathodes
Depending on customer needs and process requirements, we can install planar or rotating sputtering cathodes. The former requires greater power, have a shorter service life but are more cost-effective, whereas the latter require a less frequent target change but involve higher costs.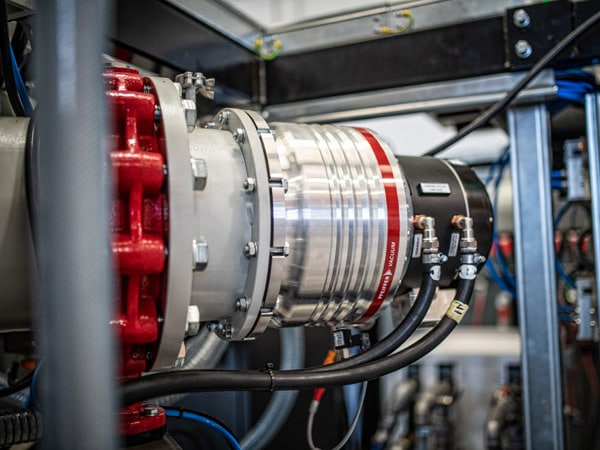 Turbo molecular pumps
Turbo molecular pumps are an eco-sustainable alternative to diffusion pumps as they do not use oils. Extremely energy efficient and low maintenance, Turbo molecular pumps are effective in reaching and maintaining high – vacuum during the sputtering phase.
Reactive sputtering
Reactive sputtering technology is generally used to produce coloured metalized films on the surface of an object. The reactive process involves the injection of additional gases during the sputtering phase to produce a range of colours that could not be otherwise obtained with the deposition of the sole metal or alloy of the target material. Arzuffi systems enable controlling and calibrating the injected gases with precision, a crucial factor for the successful outcome of the entire process.