Hor-Met: high-vacuum industrial metalizing machine
Hor-Met, fitted with a high-vacuum metalizing chamber, represents a truly ergonomic solution for treating large-sized substrates.
It stands out from other Arzuffi configurations for its ability to metalize bulky items that usually hinder loading operations in the case of vertical systems. Thanks to the system's ergonomic layout and great versatility, it can be arranged to incorporate sputtering and reactive sputtering devices at a later stage.
Hor-Met offers a wide array of coating options:
PECVD base coat and top coat (HMDSO)
AHC (Arzuffi hard coating)
Technology employed: medium frequency – Advanced Jet System (cryo trap – Advanced deposition process).
Rely on us for the supply of our Hor-Met system. Fully customizable to suit any need, it offers numerous advantages, such as the evaporation of a wide range of metals thanks to the ceramic trays used in the metal deposition process.
We work with businesses from a wide range of industries, including cosmetics, high fashion, automotive and other fields of application. We are highly committed to providing cutting-edge and extremely versatile high-vacuum metallization solutions.
Contact us for further details or to request a personalized quote. We design, manufacture and install our machinery for customers in Italy and around the world.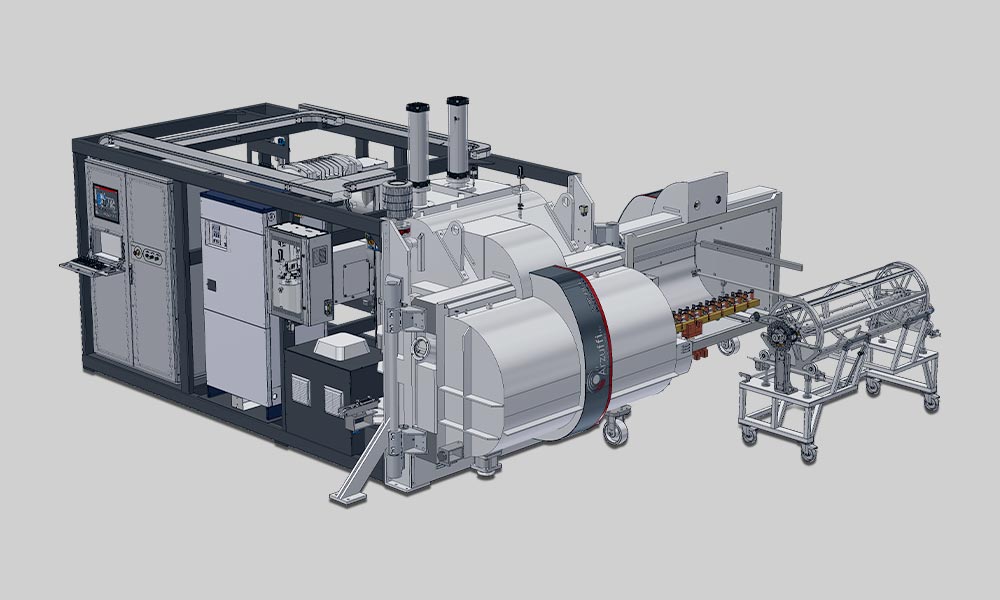 HOR-MET
Horizontal chamber
Chamber length: 1900 mm
Chamber height: 1000 mm
Chamber width: 1300 mm
Number of fixtures: 2
Fixture size: 560 mm
Useful coating height: 1500 mm (up to 2400 mm)
Layout (L x W x H): 7200 x 6600 x 2800 mm
Coating processes available: Ionic discharge, PECVD (HMDSO) base coat and top coat – Thermal evaporation, sputtering / reactive sputtering, AHC (Arzuffi hard coat) – SiO2
Cycle time: 5-10 minutes
Characteristics: fully compatible with AM/KW equipment