Plasma-Cube: PECVD equipment
Plasma-Cube is a plasma surface treatment machine used to improve properties and state of the surfaces.
 The plasma treatment is an effective and versatile technology. It is used in many applications and responds to the needs of cleaning, treatment, sanitation and coating of surfaces.
 To name a few, the plastic and rubber sector to modify the wettability of the substrate, increasing it in order to favor subsequent surface treatments (such as painting, screen printing, pad printing, metallization, chrome plating, …) or reducing it to favor the cleaning and reduce the friction; the engineering industry to obtain antioxidant films; the automotive sector to increase surface tension and promote paintability; the electrical and electronic sector to obtain a deep cleaning of the surfaces, as well as for the medical sector; finally, the textile sector to obtain hydrophobic, hydrophilic or dirt-repellent fabrics.
Contact us for more information and to define the PECVD system which fit your needs.
We give immediate technical assistance everywhere in the world.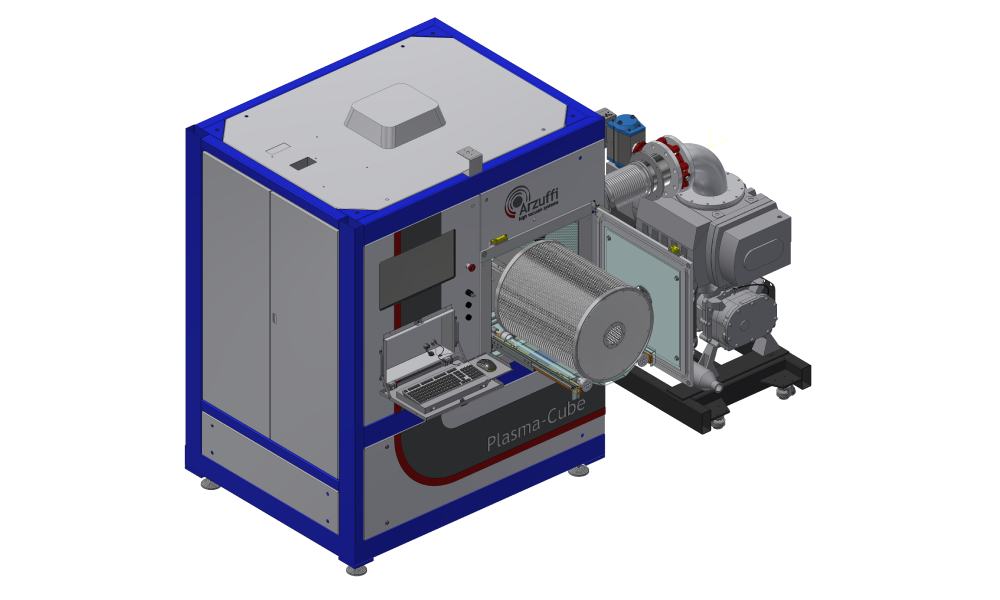 PLASMA-CUBE
Layout (L x W x H): 2850 mm x 1250 mm x 2000 mm
Chamber dimension: 600 mm x 650 mm x 600 mm (volume approx. 235 l)
Chamber material: stainless steel
Treatments: anti-sticking, surface activation, cleaning, antioxidant, wettability, …
Field of application: mechanical components, rubber and plastic, automotive, electrical and electronic, textile machinery, machinery for plastic materials, medical technology, …