Contract manufacture of metallization and thermal evaporation systems
Arzuffi boasts a 30-years long experience in the design, manufacture and installation of thermal evaporation metallization systems. They employ a PVD deposition technique by which a flow of high intensity current travels through a metal electrical resistance where the material to be deposited is placed.
The strong heat produced causes the material to sublime in the form of vapour until it reaches the substrate. Being a high-vacuum technique, the particles reach the substrate quickly and without hindrance, regardless of the long distance (at times) between substrate and source.
Product lines and relative available configurations: AM/KW, Speed-Met and Hor-Met.
Contact us for the production of industrial thermal evaporation metallization and coating systems. We operate throughout the Italian territory and at the international level.
Batch Manual Solution
AM-KW
When it comes to high volume processes and complex products, AM-KW represents the ideal solution. These systems come in 4 different configurations with different technical details, such as the size of the thermal evaporation chamber. The technology employed is completely ecological, making the overall system extremely easy to manage.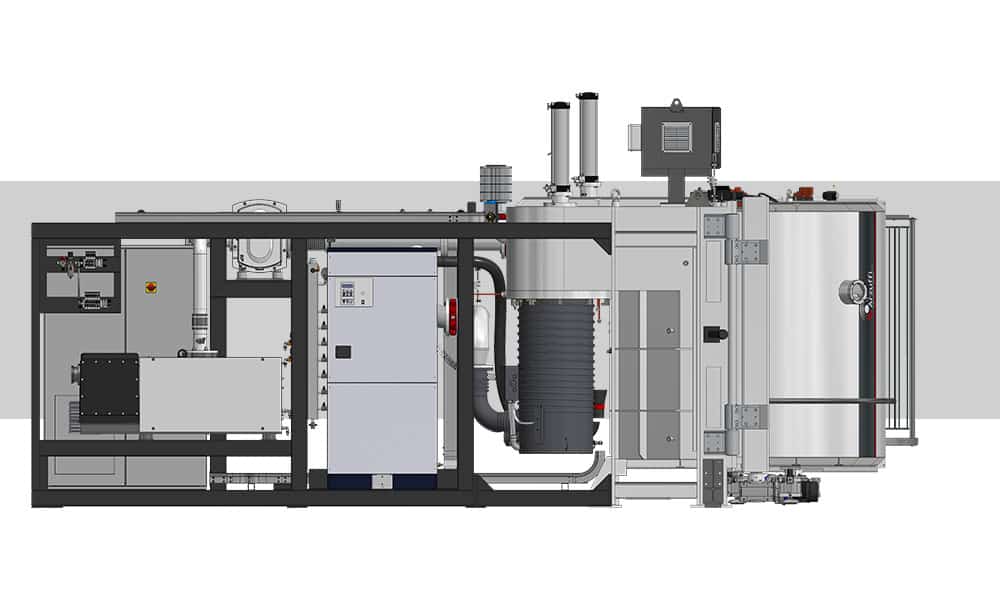 Batch Manual Solution
Speed-Met
Our Speed-Met thermal evaporation system relies on a standard, fast-cycle metallization process for achieving excellent coating performance. The single-tool configuration (Single Planet) is ideal for processing large-sized items.
Batch Manual Solution
Hor-Met
Hor-Met is a thermal evaporation metalizing machine that can incorporate sputtering and reactive sputtering technologies. Its ergonomic layout makes it suitable for the production of large substrates using different coating processes and technologies. See the data sheet for more information.